I don't often trust the muffin recipes that tell you to mix dry and wet ingredients in two separate bowls then just combine them. That's because I tried that method for a few times and the results were always tough muffins. I have more confident in the recipes starting with creaming butter and sugar together. But now I've come to realize that maybe I was the one to blame. When folding wet ingredients into dry mixture, it seemed like I always overmixed, and I didn't stop before I got a very smooth batter. Apparently that's not the way. The key here is mixing until just combined, and it's completely fine if the batter is not smooth, because that's the way it should be.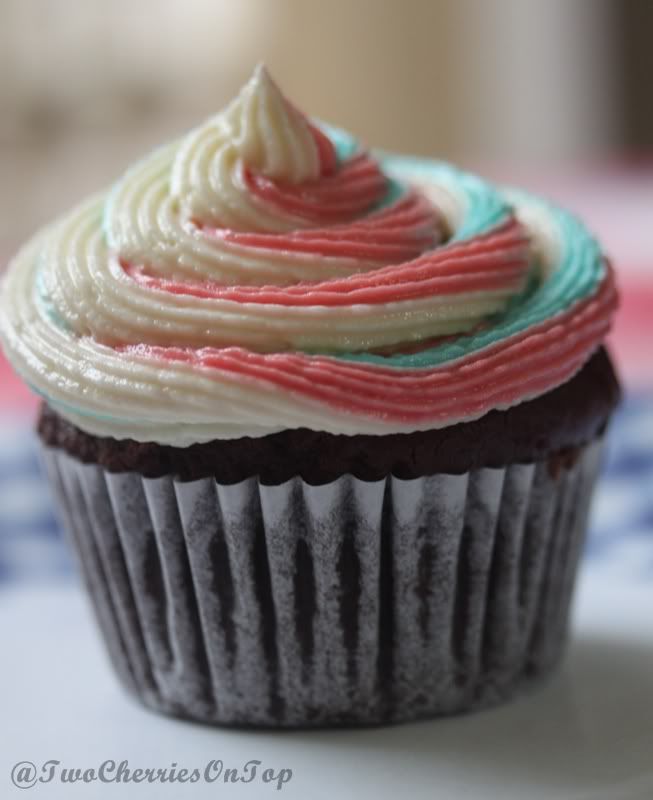 This recipe for chocolate buttermilk muffins is a very good one and I'd like to use it again and again. The muffins are soft and fluffy with fantastic chocolate aroma. They all look cute and neat that they could as well be put in a box to gift someone. Surely the recipient will honestly love the little cakes.

There's one more thing I want to say. I wanted to make the red, white and blue frosting for July 4th. but this was the first time I made frosting and also the first time I used icing colors so my experience in this was close to none. And I also didn't want to use too much color. That was why my frosting didn't look blue and red, but more like cyan and pink. Someone in my family said the frosting looked more like Christmas instead of July 4th. Anyway, the frosting was so delicious that I guess I'll follow that recipe the next time I make buttercream frosting, and the next time, and the next time...
Chocolate Buttermilk Muffins

Servings: 12 standard muffins
Adapted from Joy of Baking

Ingredients:

• 230g AP flour
• 230g light brown sugar
• 2 large eggs
• 60g unsweetened cocoa powder
• 1 tsp baking powder
• 1 tsp baking soda
• 1/2 tsp salt
• 113g unsalted butter, melted and cooled
• 1 cup buttermilk (1 TBSP lemon juice + enough milk to make 1 cup. Leave for 5-10' then use)
• 1 tsp vanilla extract

Directions:

1. Prepare the muffin pan by lining it with muffin liners or greasing. I used a standard 12-hole muffin pan. Sift together flour, baking powder, baking soda, salt and cocoa. Set aside.

2. Whisk eggs and buttermilk and vanilla together.

3. Make a well in the dry mixture, pour in the wet mixture along with the melted butter.

4. Gently fold in with a spatula until just combined. Don't overmix or the muffins will
be dry and tough.

5. Scoop the batter into prepared muffin pan. Each muffin cup should only be filled up to 80%.

6. Bake in a preheated oven @ 375oF for 20-25'.

7. Cool the muffins in pan for 10' then cool on a wire rack.

Notes:

1. When folding the wet ingredients in to the dry, I tried to do that with no more than 25 folds.

2. I baked @ 370oF (my oven refused to reach exactly 375oF) and it took about 32'.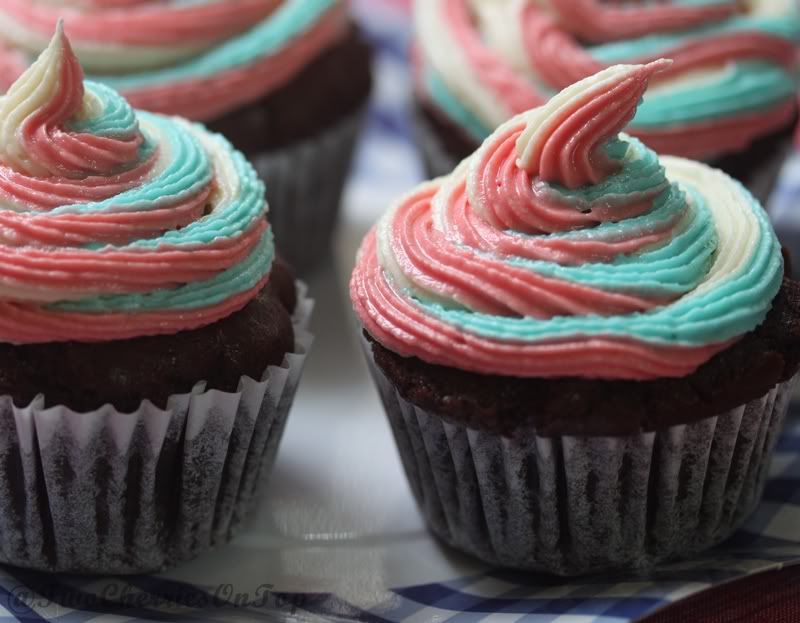 Buttercream Frosting

Adapted from Sugar Crafter

Ingredients:

• 2 sticks butter, softened (227g)
• 4 cups powdered sugar, sifted (115g x 4)
• 1 1/2 tsp vanilla extract (I used Wilton's clear vanilla)
• 2 tsp milk
• food coloring, if using

Directions:

1. Beat the butter until pale. Beat in the vanilla extract, then gradually beat in the powdered sugar, half at a time. If the frosting looks dry, add 1-2 tsp milk (I didn't need to add any).

2. Divide the frosting into separate bowls, and add in the food colorings if you need frostings in more than one color.

3. Use spoons to beat each portion until well-combined.

4. Spoon each colored frosting into a separate [small] bag.
Cut about a half inch off the end of each of the frosting bags.

5. Load all frosting bags inside a bigger bag fit with your favorite piping tip. Practice on a paper towel before piping on a cupcake to work out all the kinks.

6. If not using more than one color, just fill the frosting into the bag with your favorite piping tip and decorate.

Note:
- Unused frosting without icing color should be kept refrigerated up to 5 days. Before using, cool it to room temperature and re-beat a little.
- While you prepare the big piping bag, put the small bags (filled with colored frosting) in the fridge to prevent melting.
- Frosted cupcakes should be kept refrigerated.