Who can refuse the combination of chocolate and cherries? Absolutely not me. That was why I decided to make these chocolate cherry muffins right when I saw the recipe.
Recipe adapted from Calcherry.

Chocolate Cherry Muffins
Makes 12 medium muffins

Ingredients:

• 8 ounces butter at room temperature (227g)
• 3/4 cup sugar (150g)
• 2 eggs, beaten
• 2 cups all-purpose flour (260g)
• 2 teaspoons baking powder
• 1/2 teaspoon salt
• 1/3 cup unsweetened cocoa (28g)
• 1 cup milk (240ml)
• 1 1/3 cups pitted cherries, halved
• 1/2 tsp vanilla extract

Directions:

1. Preheat an oven to 400 degrees F.

2. Cream together the butter and the sugar until fluffy and light. Slowly beat in the eggs, one at a time, and vanilla extract.

3. In a bowl, sift together the flour, baking powder, salt, and cocoa. Add this to the egg mixture along with the milk and mix just long enough to blend the ingredients, no more than 20 seconds.

4. Fold in the halved cherries, no more than another 10 seconds.

5. Let rest 10 minutes, then fill greased muffin cups to the brim with the batter.

6. Bake until a toothpick inserted in the middle comes out clean, about 20 to 25 minutes.

7. Remove and let cool 10 minutes before unmolding.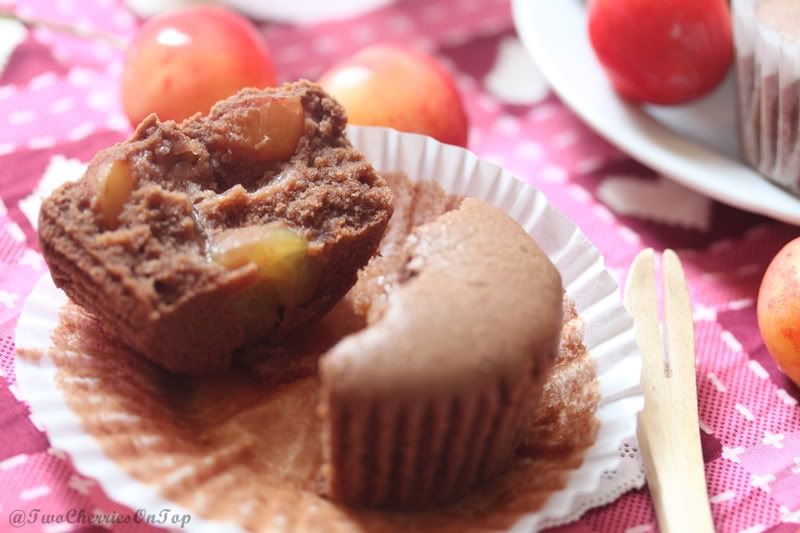 Notes:

1. I used Rainier cherries b/c that was what I had. The fresh cherries were so delicious on their own, but they tasted quite pale in the muffins :(. Anyway, they did add some freshness.

2. I baked the muffins @ 350oF. 400oF seemed too high and I baked for 35'.

3. I put the muffins in the fridge and the next day they tasted like brownies with cherries :). Good.

4. My muffins did not raise very much (so remember to fill the batter up to the brim), maybe that was why they tasted like brownies after staying in the fridge. I did not follow the time limit in step 3 and 4, i.e it took me longer to mix the batter. Maybe that was the reason why my muffins were quite dense?

5. Will I bake these again? Maybe yes, but I'll pay more attention to the time limit and I'll use red cherries. Rainier cherries really should be eaten fresh.