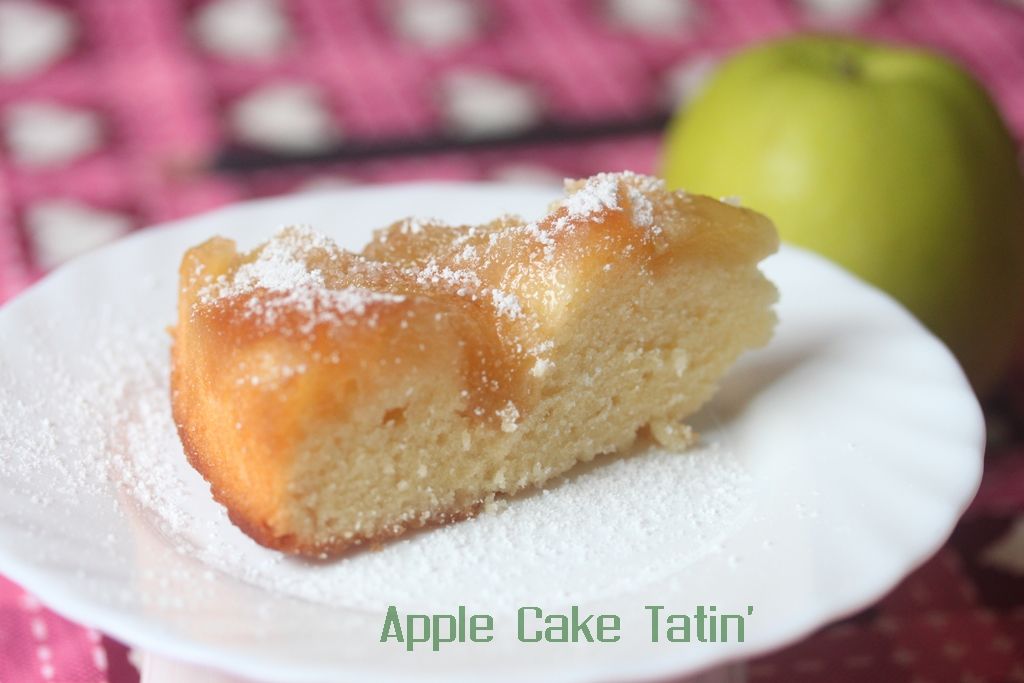 This cake is a hit in my family every time I make it. It is basically an apple upside-down cake. The tanginess of Granny Smith apples makes them the best type to be used here. The tangy and chewy apple slices will be coated with the sweet caramel - yum... truly amazing.
Recipe after the jump
Ingredients (for a 9-inch round pan. I used a glass one)
For the caramel sauce:
- 200g sugar.
- 80ml water.

For the cake:
- 2 medium Granny Smith apples, each peeled and slices into 12 pieces
- 85g butter, softened
- 150g castor sugar
- 2 large eggs
- 1 tsp. vanilla extract
- 75g sour cream
- 155g AP flour
- 1/2 tsp baking powder
- 1/4 tsp salt
Directions
1. Preheat the oven to 350 degrees F.
2. Generously butter a 9-inch glass pie dish and arrange the apple slices in the dish.
3. Combine 200g sugar and 80ml water in a small saucepan and cook over high heat and be patient until it turns a warm amber color. Swirl the pan but don't stir. Pour evenly over the apple slices.
2. Meanwhile, cream 85g butter and 150g sugar in the bowl of an electric mixer fitted with the paddle attachment, until light and fluffy.
3. Lower the speed and beat in the eggs, one at a time.
4. Add the sour cream, vanilla and mix until combined.
5. Sift together the flour, baking powder, and salt and, with the mixer on low speed, add it to the butter mixture. Mix only until combined.
6. Spoon the cake batter evenly over the apple slices and bake for about 40 minutes (I always baked for 43-45'), until a cake tester comes out clean. Cool for 10 minutes, then invert the cake onto a flat plate. If an apple slice sticks, ease it out and replace it in the design on top of the cake. Serve warm or at room temperature, dusted with confectioners' sugar (if you have a really sweet tooth).
Note: My family prefer this cake served cold (after it's completely cooled and refrigerated for a while). I ate it that way and it was very good too, especially with some ice-cream or Greek yogurt).